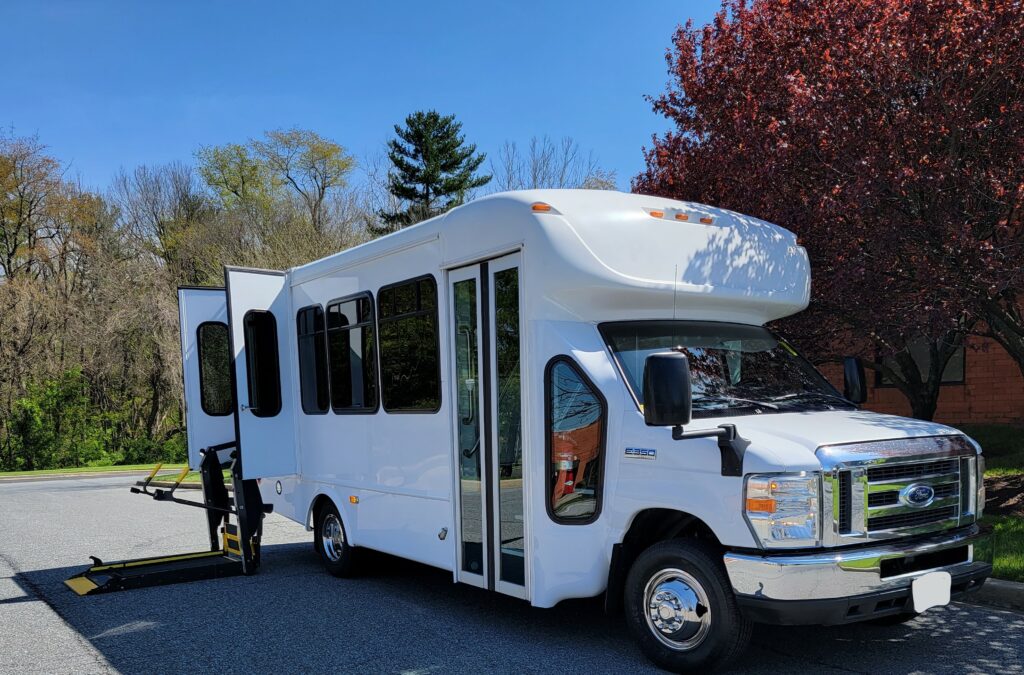 Introducing "The Ambassador": Your Ultimate Choice for Wheelchair-Accessible Transportation with Executive Comfort
"The Ambassador" is not just an ordinary shuttle bus; it is an exceptional ADA wheelchair lift mini-bus designed to provide accessible transportation without compromising on luxury and style. With its motorized lift and versatile seating options, "The Ambassador" is the perfect solution for accommodating both wheelchair users and other passengers in utmost comfort and convenience.
Unmatched Accessibility: We understand the importance of providing accessible transportation options for individuals with mobility needs. That's why "The Ambassador" is equipped with a motorized lift, ensuring smooth and secure boarding and disembarking for up to 4 wheelchairs. With this ADA-compliant feature, we aim to make transportation inclusive and accessible for all.
Flexible Seating Configurations: "The Ambassador" offers the flexibility to adapt to different passenger requirements. With the capacity to accommodate 4 wheelchairs and coach-style seating for up to 12 passengers, this executive mini-bus provides various seating configurations to meet your specific needs.
Versatility and Comfort: Whether you need to transport multiple wheelchair users or a combination of wheelchair users and able-bodied passengers, "The Ambassador" offers the versatility to accommodate different group sizes. Choose from the following seating configurations:
4 Wheelchairs + 8-passenger coach-style seating: This configuration allows for the comfortable transportation of up to 4 wheelchair users along with 8 additional passengers seated in the luxurious coach-style seating.
3 Wheelchairs + 10-passenger coach-style seating: With this seating arrangement, "The Ambassador" can accommodate up to 3 wheelchair users and 10 passengers in the spacious and plush coach-style seating.
1-2 Wheelchairs + 12-passenger coach-style seating: For smaller groups requiring wheelchair accessibility, "The Ambassador" can comfortably accommodate 1 or 2 wheelchairs along with 12 passengers in the executive coach-style seating.
Luxury and Style: "The Ambassador" not only provides accessibility but also delivers a premium travel experience. The coach-style seating ensures that all passengers, whether in wheelchairs or not, can enjoy the journey in ultimate comfort. The plush seats are designed to provide ample legroom and support, making every trip a luxurious and enjoyable one.
Safety and Security: The motorized lift in "The Ambassador" ensures the safe and smooth transition of wheelchair users, prioritizing their comfort and security throughout the boarding and disembarking process. Our highly trained drivers are experienced in providing assistance to wheelchair users and ensuring their safety at all times.
Book "The Ambassador" for your next executive transportation needs, ensuring an inclusive and comfortable experience for all passengers. Whether it's corporate events, airport transfers, group outings, or any other special occasion, "The Ambassador" guarantees accessibility, luxury, and convenience. Trust in our commitment to providing top-notch service and make your journey a memorable one with "The Ambassador" by your side.
The maximum passenger capacity is 12!