posted by On the Town Limousines @
15:17 PM
December 6, 2012
Every company wants to believe that they are the best at what they do. We are certainly no different, but we really do like to think that we actually are the best in our area.  We have a dedicated team of professionals both in the office and operating our vehicles.  We genuinely care about our clients and the service that we offer them.  We are never satisfied unless the client is satisfied, and if there is a problem, which unfortunately will sometimes occur, we will do our best to make sure we leave everyone satisfied with the solution.  We also welcome everyone to come and visit our fleet so that you know exactly what you are getting when you rent a vehicle with us.
So if the company you are thinking of using is difficult to talk to, or even reach on the phone, if they do not want you to see the vehicle prior to renting it, if they ask for a large non-refundable deposit of 50% or more, these may be red flags that you should at least get a comparison quote from another company.  You also need to ask about their licencing to make sure they are properly registered with the appropriate authorities, such as the Maryland Public Service Commision and the Department of Transportation, and that they are operating legally.
Renting a limousine is not an everyday occurance for most people, so the experience should be amazing from start to finish, and leave nothing but smiles, and that is exactly what On The Town Limousines, Inc. strives for every single day.
posted by On the Town Limousines @
12:57 PM
December 5, 2012
We are really excited to announce that we are now a featured vendor on The Knot!  We hope that our wedding couples will look for us there and continue to give us wonderful reviews as we strive to win the coveted Best of The Knot award.  In the real estate world we all know the phrase Location Location Location, well in our world we like to say Customer Service Customer Service Customer Service!!  If you are engaged or about to become engaged we hope that you will give us a call to find out all of the wonderful services that we can offer you.
Check us out on www.theknot.com
posted by On the Town Limousines @
15:45 PM
November 21, 2012
The holidays are upon us again, where does the time go?  We are hoping to be able to honor our chauffeurs and their families by giving as many of them as possible time off to spend with their families, but we understand that for some people they are still travelling for business as well as pleasure and you are relying on us to get you safely to your destinations.  We will be there for you, whether it is Thanksgiving or any of the upcoming holiday season.
We would like to take this time to wish all of our clients a happy and safe Thanksgiving holiday.
posted by On the Town Limousines @
14:12 PM
November 6, 2012
On The Town Limousines, Inc. staff participated in the FABNet Bridal Show on Sunday November 4th, 2012.  It was a great event and we met with many wonderful couples who are planning on getting married in 2013.  This was a great event and really well attended, Len, DEanna, Becky and Tyler had so much talking with everyone, and spending some time with other vendors, as well as tasting all of the great food samples available that day.  We took our big buses for couples to preview, so they know exactly what to ask for when making their reservations.  This is an amazing show, and we will be back again next year for sure, and we hope to see you there too!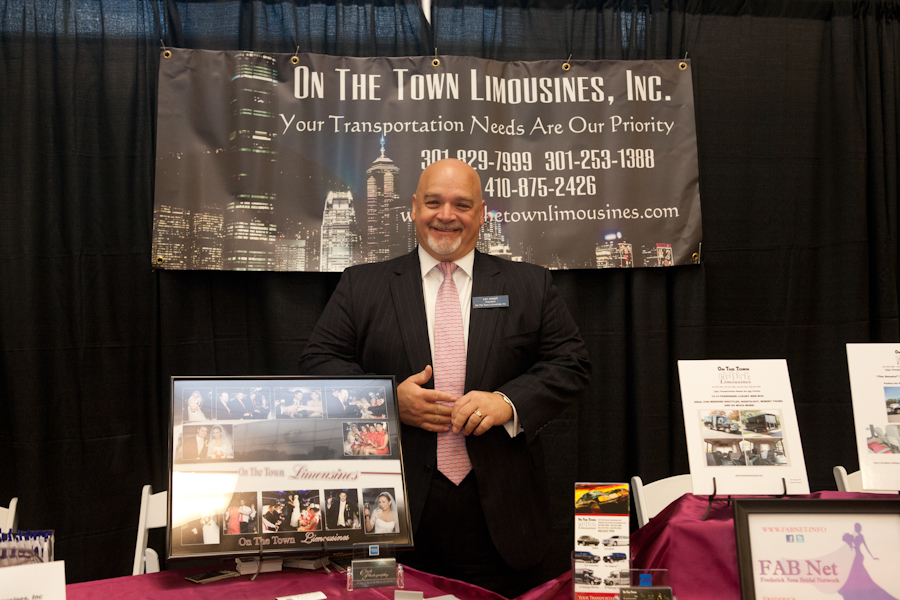 Len Joseph, the owner of On The Town Limousines, Inc. at our booth at The FABNet Bridal show held on November 4th, 2012.  Photo courtesy of Kelly Hahn Photography.
posted by On the Town Limousines @
13:03 PM
October 9, 2012
On The Town Limousines, Inc. prides itself on not only our fleet and the level of customer service that we offer to each and every client, we also pride ourselves on our chauffeurs.
What is the difference between a chauffeur and a driver, or a private car service and a cab company?  A driver may well be excellent at getting you from point A to point B safely, but a chauffeur goes well beyond driving a car.  He is knowledgeable about restaurants and points of interest, he is discreet about what he may or may not hear in the vehicle.  He will provide his cell phone number to the client for ease of contact prior to the pick-up time.  He arrives early for his pick-up time, his vehicle is always clean, he will hold the door for you, and help you into the vehicle.  He will always deal with your bags for you.  If you need to make an unscheduled stop for a cup of coffee or a newspaper, none of that is a problem.  He is always professionally attired and is mindful of his clients needs and desires while they are in the vehicle.  Cab or taxi companies offer a vehicle that may or may not be clean, a driver who probably will arrive exactly at the time you requested, but with no way of contacting the driver should you have a last minute change in plans.  Additional stops will just cost you more money, because you are "on the clock".
On The Town Limousines, Inc. has some of the best chauffeurs in the area.  They love to offer our clients only the best service possible.  So if you want a driver, hire a cab, but if you want the best call us today 301-829-7999 and treat yourselves to a Chauffeur driven limousine or sedan.
posted by On the Town Limousines @
13:11 PM
September 20, 2012
On The Town Limousines, Inc. is excited to announce that we have recently opened a second location.
Our new Frederick address is:
25 East Patrick Street, Suite 202, Frederick MD 21701 Telephone: 301-695-LIMO (5466)
This office is for by appointment only meetings at this time, so please call ahead to schedule a meeting for this new office so conveniently located right in the heart of downtown Frederick.
Our primary location and phone numbers have not changed, and we are excited to be able to offer our clients yet another option to meet with us to discuss all of their needs.
We constantly strive to offer both our existing and future clients only the best customer service and fleet options available in the area, and we feel that the addition of this second location is just another way to help us achieve these goals.
We look forward to meeting with you soon, either in Frederick or Mount Airy to discuss all of your transportation needs, whether it is for a wedding, night-out, airport or cruise terminal transfer or for one of the many other services that we are able to offer.
See you there soon!!
posted by On the Town Limousines @
15:20 PM
July 9, 2012
I was driving on the highway recently and saw an advisory for a Silver Alert, and I will be completely honest and say that I did not know what a Silver Alert was.  I asked around and no-one I know had ever heard of a Silver Alert either, so I decided that I would just give everyone a little heads up on what this is!
We have all heard of Amber Alerts and know they refer to missing children, well a Silver Alert refers to missing adults, usually seniors with Alzheimer's, dementia or other mental disabilities.  So if you see or hear about a Silver Alert on your local radio, please take a moment to listen to the information being broadcast, or make a note of the information you are reading on the highway.  With many pairs of eyes looking for someone it may well save a life.
posted by On the Town Limousines @
11:36 AM
July 5, 2012
The summer is well underway now with some sizzling temperatures and dramatic weather conditions here in the mid-Atlantic.  So far we have escaped reasonably well with the power outages, but that cannot be said for all of our clients.  Some of our wedding couples have had to deal with venues that have no power which has caused some fairly serious headaches!
On The Town Limousines tries very hard to make sure that we are there on-time, everytime, even when the road conditions are bad.  We have dealt with road closures, delays and torrential down pours but still manage to get our clients where they need to be on time, or as close to on time as we can possibly be.  We always factor in extra time to allow for the unexpected, but even we were caught a little off-guard recently when we arrived at the hotel to find the parking lot full of fire engines, and all of the guests assembled in various states of dress and undress in the parking lot! No matter how hard we try there are just some things that we cannot predict!!
So, a big thank you to all of our recent clients for working with us in extreme conditions, and a really big shout out to our classy drivers for the amazing job they have been doing to ensure the safety and comfort of all our clients, whether they are headed to the airport, having a night on the town, or are brides and grooms trying to get to their weddings.
Do you have an interesting story about your wedding – let us know, we would love to hear from you.   We look forward to helping all of our wedding couples arrive in style and comfort! And..in the meantime enjoy the rest of this very warm summer.
posted by On the Town Limousines @
11:37 AM
May 22, 2012
The summer season is just about here so we are thinking vacations!!  If you are leaving the country you will need a current passport, so here are some tips about passports, from when you need one to getting one renewed.
If you are applying for a passport, send in your application as soon as possible, especially if it is nearing its expiration date.  Some countries require that your passport be valid for six months after  a traveler's entry or return date.  Passports issued to passengers 15 years old and younger are valid for five years, for those 16 and older  are valid for ten years.
Processing times in May are about four to six weeks for regular service and two to three weeks for expedited service.
You must apply in person if:
You are a first time applicant.
Your passport was lost, damaged or stolen and you must also  complete form DS-64 if the passport was lost or stolen.
Your old passport expired and was issued more than 15 years ago or before you turned 16.
Your name has changed since your last passport was issued and you have no documentation reflecting the change.
You are 14 to 17 years old . A parent or legal guardian, with his or her own ID, must be present if you do not have acceptable identification. Parental consent is required for children 16 or younger. Both parents must appear and present acceptable identification and proof of relationship (e.g. their names on the child's certified birth certificate. Newborns and toddlers need a passport and must be present when their parents apply on their behalf.
You will need to fill out form DS-11 (but do not sign it until the passport official tells you to). You will need proof of U.S. citizenship e.g. an original or certified birth certificate, personal ID such as a valid driver's licence or military ID. (Please be aware that the full names of the applicant's parents must be listed on the certified birth certificate.) You will also need one 2″x2″ passport photo which was taken in the last six months.  The fees are (as of May 2012) $135 for age 16 and over or $105 for younger than 16.
If your passport is running out of pages, and you are down to two to four visa pages, you need to add some more pages.  Send your passport, Form DS-4085 and the $82 fee to National Passport Processing Center, PO Box 90106 Philadelphia PA 1910-0106.
For expedited renewal service by mail, send in the necessary forms and documentation plus an additional $60.00 and overnight delivery costs.  Write "Expedite" on the envelope and the departure date on your application.  To ensure timely delivery add the cost of two-way overnight delivery.
If you are leaving in under two weeks, make an appointment with a Regional Passport Agency.  In Washington the center at 1111 19th Street NW is open from 8 am to 3 pm on Monday, Tuesday and Thursday, and  on Friday  from 9 am to 3 pm on Wednesday.  To schedule an appointment call 877-487-2778.
For faster, but more costly service, use a private company.  You will pay a flat rate based on the speed of service, plus government fees.  Search online for companies and their prices.
You can find official passport information from the State Department Web site, www.travel.state.gov/passport.  For a status report on your application, contact the National Passport Information Center at 877-487-2778 or check online at www.travel.state.gov/passport/status/status_2567.html within five to seven days of your application.
Not sure if you need a passport?  You need a passport for all foreign travel with a few exceptions.  Since 2009 the United States has required Americans to carry a passport or an acceptable alternative when traveling to Bermuda, Mexico, Canada and 17 Caribbean nations.  US territories such as Puerto Rico, the US Virgin Islands and Guam are exempt as are cruises that begin and end in US Ports.
Childen younger than 16 traveling to the above destinations by land or sea cans still use their US birth certificate (original or copy) or another proof of citizenship to reenter the States.  US Pasport Cards valid for sea and land crossings, but not for use in air travel, are acceptable for travelers of all ages.  Cost is $55 for first time adult passport applicants, $40 for those younger than 16 and $30 for valid passport holders.  For application information go to www.travel.state.gov/passsport.
Acceptabl;e alternative documents include Trusted Traveler Cards (Fast Cards), US Military ID with travel orders and Native American photo ID cards.
posted by On the Town Limousines @
11:35 AM
May 15, 2012
Memorial Day is almost upon us again.  It is the official start to the Summer season, beach visits, BBQ's and long warm days in the sun.  High School Seniors have graduated and looking forward to graduation parties, beach week, and possibly getting ready to start college. But what is Memorial Day really all about, it is so much more than just a day off.  So as we start to look forward to those Memorial Day parties and BBQ's we hope that you will take a moment and also remember those that are currently serving us and all those who have given their lives for us.
Memorial Day was first celebrated on May 30th 1868, and was observed by placing flowers on the graves of Union and Confederate soldiers during the first national celebration.  General James Garfield made a speech at Arlington National Cemetary, after which about 5,000 people helped to decorate the graves of the more than 20,000 Union and Confederate soldiers who were buried there.
The reason that Memorial Day is celebrated on 30th May every year is because three years after the Civil War ended on May 5th, 1868, the head of the Grand Army of the Republic established Decoration Day as a time for the Nation to decorate the graves of the war dead with flowers. Major General John A Logan declared that Decoration Day should be observed on 30th May.  The date was chosen because flowers would be in bloom all over the country.
Since the late 1950s on the Thursday before Memorial Day, about 1,200 solddiers of the 3rd US Infantry place small American Flags at each of the approximately 260,000 gravestones at Arlington National Cemetary.  They then patrol 24 hours a day during the weekend to ensure that each flag remains standing.  In 1951 the Boy Scouts and Cub Scouts of St Louis began placing flags on the 150,000 gaves at Jefferson /Barracks National Cemetary as an annual Good Turn, a practice that continues to this day.
Starting in 1998, on the Saturday before the observed day for Memorial Day, the Girls and Boys Scouts place a candle at each of the approximately 15,300 grave sites of soldiers buried at Fredericksburg and Spotsylvania National Military Park on Marye's Heights (the Luminaria Program).
In the year 2000 the National Moment of Remembrance Resolution was passed.  At 3pm on Memorial Day all Americans are asked to voluntarily and informally observe in their own way a moment of remembrance and respect by pausing from whatever they are doing for a moment of silence or listening to taps.
Some interesting facts about Memorial Day:
New York was the first state to officially recognize Memorial Day
The South refused to honor the dead until after World War 1 when the meaning of Memorial Day changed from honoring the Civil War dead, to honoring Americans who died fighting in any war.
Memorial Day was declared a federal holiday in 1971.
"Your silent tents of green
We deck with fragrant flowers;
Yours has the suffering been,
The memory shall be ours."
Henry Wadsworth Longfellow